Marcus Vargas's 1947 Chevrolet
"Super Slammed Fleetline"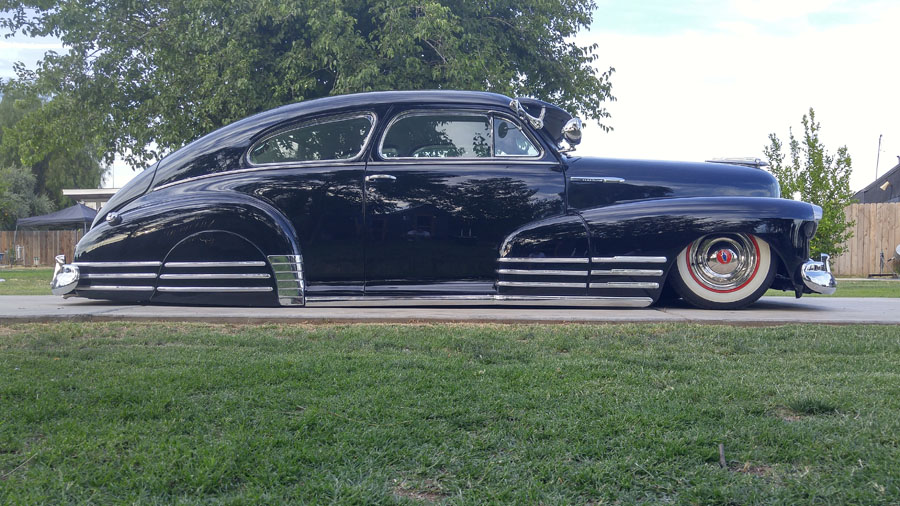 Through the years while putting together my website I have seen a lot of Fleetlines, but very few
stand out above the rest. Marcus's Fleetline does exactly that, stands out above the rest. Marcus has
done with this car what a lot of Fleetline owners would love to do to theirs, that is "To Lay it on the
Ground"! To achieve the look of the "Super Slam" it takes commitment!, why because of the irreversible
modifications required and the complexity it takes to complete the task. Now for those 1942 thru 48
Chevrolet owners know that the frame sits lower than the body and simply laying the frame on the ground
leaves an inch to inch in a half gap between body and the ground. So modifications have to be made to
achieve this look. Marcus used his design engineering background in order to overcome Chevrolets body
to frame design. His Fleetline has an innovative modified frame which includes shaving and reinforcing
the frame, replacing the "K" member, channeled front cross member and "C" notched frame. Other frame
modifications include, raising motor, raising steering box, 3 link rear suspension, fatman uprights
and front disc brakes. Other cool and subtle comfort modifications added are digital gauges, air
conditioning, leather interior, stereo system and auto leveling air bag system. Marcus completed his
car just recently, June 2016 and his name is well known in the Bomb (Old Car) world with the quality
he puts towards his cars and his attention to detail. Marcus is part of the Old Memories Car Club
family originated in Los Angeles California and is President of the Fresno Chapter. To see Marcus"s
Fleetline build in detail go to www.chevybombs.com and in the "Bomb Restoration Projects" topic
search for "Fresno48".
Marcus wanted to give special thanks to his wife Gloria for her love and support!